Are you looking for cloth mask patterns, but just aren't sure where to start? There are plenty of masks available to buy, but if you want to make your own, it's surprisingly simple. You just need some basic sewing skills. I've used scrap fabric from quilts to create some simple masks for my family and community and there's no reason you can't do the same.
There are basically two types of cloth mask patterns, the rectangular, pleated types and the fitted sort that form to your face without pleats. Which option is better? That depends on your preference. Cloth masks are certainly not a complete solution, but they are a good alternative to the disposable ones.
Caring for Your Cloth Mask
Your cloth mask needs to be washed in hot, soapy water every time you use it. No exceptions. The hot water setting on your washing machine will be fine, then dry it in a dryer or in the sunshine. The fabric and elastic may break down over time with this regimen, but the mask will still hold up longer than disposables.
I personally like to have four or five masks per person. This makes it easy to always have one on hand and clean. They're easy enough to make and don't require a lot of fabric, so go ahead and make extras.
Another tip, when sewing your own fabric masks, make sure you use different colors of fabric for the inside and outside. This makes it easy to see which side goes toward your face if you have to take it off for any reason . . . you don't want to mix it up!
Cloth Mask Patterns
I've made a lot of cloth masks in my time and have come to rely on a few patterns. Here are some of the best fabric mask patterns I've found. They're pretty easy to whip up, as long as you have the supplies on hand.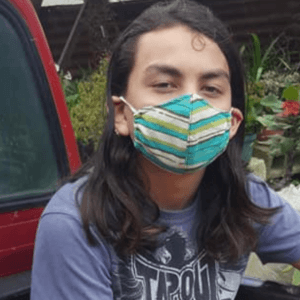 This mask pattern existed long before the pandemic and I used it to create masks to protect us from volcanic ash years ago. The pattern is simple, but very comfortable. It fits well and she has multiple sizes so you can make it for small children all the way up to adults. This is a smaller mask than some fitted options, but I found it worked very well. The only caveat is to measure the elastic on yourself . . . I found her measurements a little short.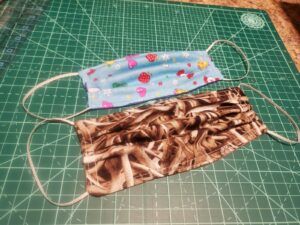 The other pattern I use, particularly when making masks to donate, is this pleated option (Scroll to the bottom of the page for an instruction video). It's very simple, just rectangles of cloth, so you can cut them out with a rotary cutter very quickly. If you're planning to make a number of cloth masks, I suggest doing these assembly-line style.
There are literally dozens of fabric mask tutorials on the internet, but these are the two that I have personally tried and loved enough to keep making them. If you're looking for the best cloth masks, I recommend either of these two options. You can add filter pockets, nose wires, ties, or whatever you prefer to them, but you'll find that they are excellent alternatives to paper masks.